We help philanthropists and funders turn bold ideas into action and impact.
Impact Charitable unites catalytic philanthropists with community partners, financial institutions, foundations, social enterprises, and governmental bodies. As a connector and strategic partner, we can help put your innovative ideas into action.

WHAT WE DO
WE MOVE CAPITAL QUICKLY & CREATIVELY
We unite catalytic philanthropists and funders who aren't satisfied with the status quo.
Impact Charitable's philanthropists and funders are a community of doers as diverse as the causes we fund. Yet one thing unites us all:
We know there has to be a better way.
Many of the biggest problems that persist in our communities have already been hit over the head with conventional thinking time and time again—and they're still here. They don't seem to be going anywhere, either.
So instead of staying in that comfortable box of 1960s philanthropic thinking, our investors want something different. They're willing to try new models, learn from experience, and iterate until a solution is found. They embrace their power to take risks that institutions, government, and business cannot.
We find where capital is missing and then move assets to fill the gap in creative and innovative ways.
OUR PHILANTHROPISTS & FUNDERS CARE ABOUT…
>    BIPOC entrepreneurs and small business start-up funding
>    Native communities and the transition to renewable energy sources
>    Affordable housing preservation through low-cost capital
>    Social enterprise working capital and expansion funding
>    And a whole lot more! Check out our portfolio to see the kind of initiatives we fund.
Have an impact you want to make but don't know how? Looking for support as philanthropic advisor? Contact us to see how we can partner with you.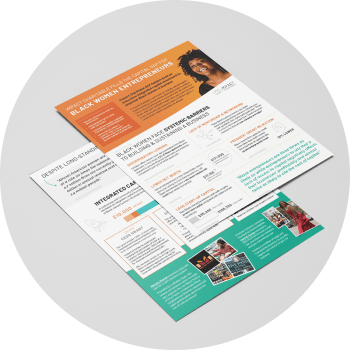 Get our case study to see how our funders and philanthropists are mobilizing their assets for unique impact.
Four Impact Charitable DAF holders made an integrated capital investment—part grant, part loan—to provide training and startup capital to Black women in Denver. Meet two of the loan recipients here!
HOW WE DO IT
USING PROVEN TOOLS IN INNOVATIVE WAYS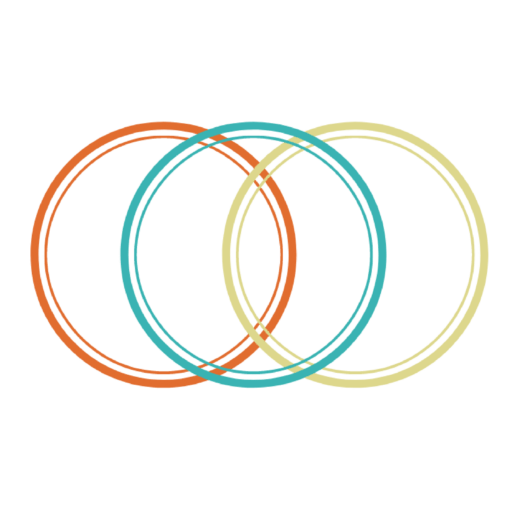 Did you know? DAFs can do so much more than grantmaking:
>   Low-interest loans
>   Equity investments
>   Revenue based financing
>   Pay for success investments
>   Special purpose investment funds
Donor-Advised Funds are our primary tool for impact. But we do DAFs differently.
We are not a parking lot for funds. We are not just a grantmaker, either—although we love grants and we help our investors make them all the time. Instead, our bread and butter at Impact Charitable is the more innovative stuff—the newer thinking, the out-of-the-box problem solving, the higher risk and higher reward.
Donor-Advised Funds (DAFs) are the tool that we most often use to facilitate these creative solutions. DAFs are a conventional philanthropic tool, but they do not have to be used conventionally.
Many of our investors have funds at other institutions and foundations, and we aren't seeking to change that. Instead, we're here to provide an additional path. We work with investors who realize that all the traditional approaches in the world may not be enough to achieve the just, equitable outcomes we want.
We are money movers and asset mobilizers. Join us.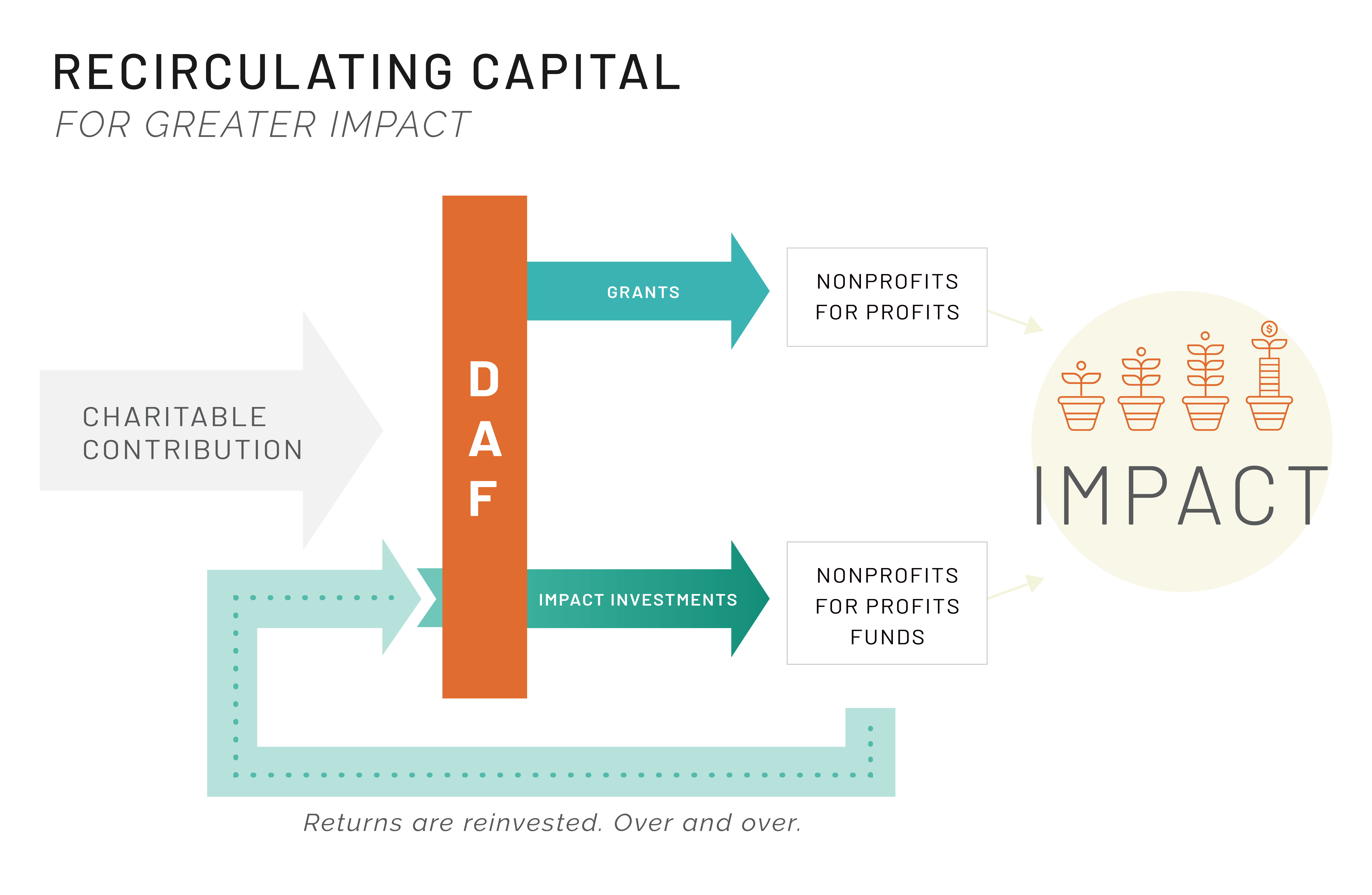 An Impact Charitable Donor-Advised Fund is the conduit for many different types of impact, made through many different types of tools.
Your funds are invested to generate positive social outcomes and financial return. You can then reinvest the same funds to achieve more positive change. Over and over and over again.
MORE TOOLS, MORE CREATIVITY
OTHER WAYS TO MAKE IMPACT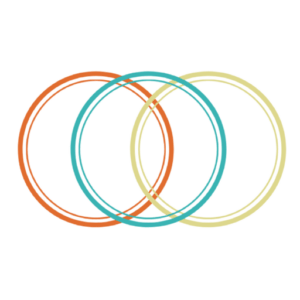 $50 MILLION MOBILIZED
35,000+ LIVES IMPACTED


65+

PARTNERS

Impact Charitable facilitates investments that not only provide positive social impact, but will return funds to my DAF, thereby replenishing the pool of funds available to support additional philanthropic ventures in the future.
It's a virtuous circle.
- CHESTER PAULS
HOW CAN WE HELP?
FREQUENTLY ASKED QUESTIONS
What is a DAF?
A donor-advised fund (DAF) is like a charitable bank account. Once you've opened a DAF, you can contribute to it as frequently as you'd like, receiving a tax benefit each time. As the donor-advisor to your fund, you can recommend grants or investments to your favorite charitable organizations or social enterprises.
DAFs are often used for grantmaking, but there's so much more you can do with this tool! At Impact Charitable, we leverage DAFs in uniquely high-impact ways—like low-interest loans, equity investments, and pay for success investments. We specialize in impact-first investing because this approach allows for capital to be reinvested over and over again.
To get started, fill out our online form. Our Director of Operations, James McClair, will reach out to you to complete the process and welcome you to the community. If you already have a DAF, you can roll it over to Impact Charitable, too!
If you know what you'd like to do with your DAF, that's great. If not—or if you'd like to hear about some creative ways our DAF holders are using this philanthropic tool—James would be happy to walk you through your options.
Are all of your investments and grants located in Colorado?
No, we are based in Colorado but can make grants across the United States and even internationally. Check out our work to see some examples, or contact us directly for more information.
Why do you embrace risk in philanthropy?
We view philanthropy as one of the best places to take risks. Why? Because philanthropic capital is unique. Once it's granted, it no longer belongs to the donor, and the donor knows that they'll never see those funds again.
Without the expectation of return, philanthropic funds are far more flexible than business or government ever could be—allowing them to be applied to more innovative and higher-risk strategies.
What are the fees and minimums?
Impact Charitable's fees are competitive for boutique impact investing but are certainly higher than big-box DAF providers like Schwab or Fidelity. Our DAF holders come to us because we offer far more unique opportunities for impact, not because we have the lowest fees in town. Contact us to explore your impact opportunities and discuss cost in more detail.
Our minimum to open a DAF is $5,000 (or the expectation to get there). We do not have a minimum for grantmaking.
What is your investment strategy?
At Impact Charitable, we are all about impact first. That's why we like to call our strategy not just "impact investing" but "impact-first investing."
This approach is centered on impact above all—ensuring that every dollar is leveraged for the highest-impact change, whether that's providing low-cost startup capital to BIPOC-owned businesses or creating the infrastructure for large-scale direct cash transfers.
Learn more by viewing our portfolio or the spectrum of capital in which we work.
We need capital. Can you help?
Possibly. We do connect nonprofits and social enterprises with loans, grants, and direct investments, but we most often work with established community partners to identify and vet recipients. We do not have any kind of direct application for funding.
Still, you're welcome to reach out to us at info@impactcharitable.org and see if we can help.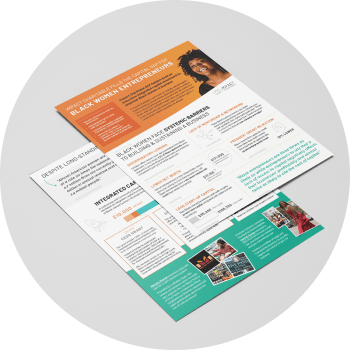 Impact Charitable funders came together to invest in Black women entrepreneurs.
Curious what our funders and philanthropists are able to accomplish? Learn how four Impact Charitable DAF holders made an integrated capital investment—part grant, part loan—to address systemic inequalities and empower Black women-owned businesses.