What is a Donor-Advised Fund?
Donor-Advised Fund
An easy way to think about a donor-advised fund (DAF) is that it is like a charitable bank account. A donor contributes to the fund as frequently as they like (and receives a tax benefit), and the fund is invested for potential growth. When they are ready, the donor recommends grants or investments to their favorite charitable organizations or social enterprise.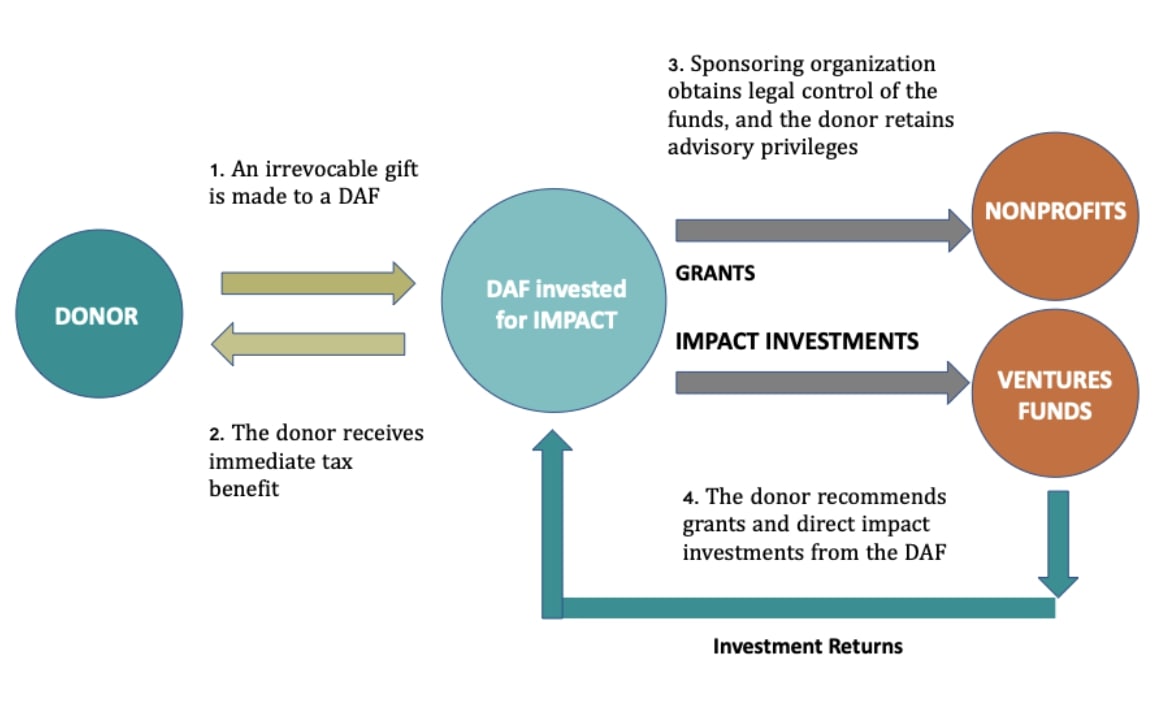 Impact Charitable wants to be a money mover, not a money manager. We are a conduit for "active assets", thinking more about specific problems to address than organizations alone. Our goal is to mobilize assets in impactful ways.
We work with clients to understand their giving plans and priorities, and ensure we can support these plans while investing in impact. Impact Charitable provides opportunities for customized direct investment into opportunities and funds alongside traditional donor-advised fund services. Our main services include impact investing, grantmaking, and direct cash assistance programs.
All dollars in DAFs at Impact Charitable are targeted for impact.  They are not our dollars or the donor's dollars anymore. They are our community's dollars. So, we provide as few restrictions on the use of funds as possible. If you plan to give away all of your funds in a year, that is fine with us.  If you want to move all your funds into impactful investments for ten years, that is great, too.
100% OF YOUR DONOR-ADVISED FUND WILL BE DEDICATED TO MAXIMIZING IMPACT.
You are doubling your impact: first through the investment, and then through the grants and investments you can make with the investment returns. We offer DAFs that are invested in impact-focused portfolios, maximizing impact while generating a return.
Additional information:
A contribution to Impact Charitable represents an irrevocable contribution to Impact Charitable. Contributions are tax deductible, are not refundable, become subject to Impact Charitable's control and discretion once made and shall not be deemed a separate trust fund held by Impact Charitable in a trustee capacity.
Donors may select an investment allocation from among approved investment options, but investment decisions rest entirely with Impact Charitable. Donors can recommend grants to charitable organizations from their Impact Charitable Donor Advised Fund account, but the final decision on all grants rests with Impact Charitable. Your discretion over these investment options will be determined by the tool you choose to use through Impact Charitable.
We will provide you with non-binding, advisory privileges concerning (a) grants and (b) investments of your Account in one or more approved Investment opportunities.
Grants may not be used to benefit the donor or members of their families.
Like what you see?
Let's Talk
Complete the contact form on the right and we'll be happy to speak with you! We look forward to the opportunity to meet you.
– The Impact Charitable Team